LEGEND NUMISMATICS THE HOME OF TRUE LEGENDARY COLLECTIONS
THE BOB SIMPSON COLLECTION-ONLY THE BEST OR TH BEST WORKS FOR HIM. HW STILL HOLDS COINS VALUED IN EXCESS OF $100 MILLION -INCLUDING THE GOLD AMAZONIAN SET
THE INSANE BRUCE MORELAN BUST DOLLARS AND TYPE COLLECTION (ALL PCGS CAC AND ALL THE FINEST).  SET NOW SOLD. HE STIL OWNS CLASSIC RARITIES THAT INCLUDE THE WORLD FORMER WORLD RECORD HOLDER 1794 SP 66-COST $10,000,000.00, THE MILLER 10C 1894-S PCG SMS65+ CAC, THE 5C 1913 EXELIASBERG PCGS PR66 (THE FINEST), AND THE DEXTER 1804. 
THE LAW/SIMPSON HALF DIMES ( INCLUDING THE UNIQUE 70s) AND MS BARBER DIMES
THE HALF DOME COLLECTION  THE #1 PCGS CAC 20TH CENTURY GOLD COMPLETE-INCLUDING A $20 1927D AND A $20 1907 UTRA HIGH RELIEF PCGS MS68 CAC! 
THE RSD #1 ALL TIME MS+PR BARBER QUARTER COLLECTION-ALL PCGS CAC
THE BLACK CAT COLLECTION-THIS TYPE COLLECTION (ALL PCGS CAC) RIVALS ANY EVER BUILT! HE NOW HAS OVER 400 OF THE WORLDS GREATEST PATTERNS TOO! HWE OWNS THE #1 ALL TIME PR 20C COLLECTION (75-S PCGS PR64 CAC  INCLUDED) AND THE MORELAN ALL TIME FINEST EVER MS TRADE DOLLAR COLLECTION-MEOW! 
THE TOM BENDER PROOF $3 GOLD COLLECTION
MERC MADNESS-THE FINEST EVER MERC DIME SET ALL PCGS CAC
FAR EAST EAGLE 1793 1C SET-INCLUDING THE 1C CHAIN AMERI PCGS SP 65 CAC! WE HAD BUILT HIM THE #1 $10 INDIAN GOLD PROOF COLLECTION TOO (SOLD INACT TO JERRY FORYSTHE). 
THERE ARE TOO MANY COLLECTIONS TO LIST. WE ARE NOT AN OVER HYPED ONE TRICK PONY. WE KNOW WHAT IT TAKES TO BUILD GREAT COLLECTIONS!  
EXCEPTIONAL COINS AT EXCEPTIONAL PRICES
Since 1987, Legend Numismatics has been building an unequaled reputation among casual collectors and avid investors a like by locating and procuring top quality rare coins. Over the past decade, Legend has built more #1 PCGS Registry sets than anyone.
As of June 2018 Legend Numismatics has exclusively built 11 of the 40 Hall or Fame Sets on the PCGS Registry. Highlights include: The Legend MS Bust/Trade/Seated Dollar Sets, The Law Bust/Seated Half Dime Sets, #1 MS+PR 3CS Sets, the RSD MS Barber Quarter Set, All the Bob Simpson collections, plus many other unnamed unregistered sets. Our sales in 2017 were $35 million (not including auction representation). We handle thousands of $1,000 coins and we are the people who purchased the $1 1794 SP 66 for $10,000,000 in 2013!
Our buying power is unmatched. in 2021 Legend Numismatics has already (as of June 1) spent in excess of  $15,000,000.00  buying the finest coins on the market including paying $4,000,000.00 for a MS68 Ultra High Relief!
Exceptional coins are always in demand, and we believe you should never settle for anything less than the highest quality coin at the best possible value. Our motto is and has always been" "there is no substitution or quality" We our resources are so huge, Legend can help you no matter what size your collection is. We attend every major show and auction (in may auctions we are the top buyers). We're never further than an email or call away!
Let Legend handle your next purchase or sale, and get the very best price for that exceptional coin.  Check out our online multi million dollar inventory of the very best PCGS CAC coins on the market!
Legend Numismatics is also affiliated with Legend Rare Coin Auctions, one of the fastest growing auction houses in the business. www.legendauctions.com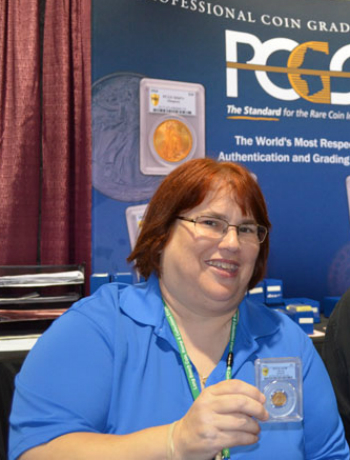 About Laura Sperber
Laura Sperber started full time in coins in 1978. She worked the bourse floor until 1986, when she started Legend Numismatics, a company devoted to selling to collectors. To date, she has handled close to $1 billion worth of rare coins. She was personally picked by the late Jack Lee to buy the entire DMPL side of his Morgan set, and she is the exclusive agent for EIGHT of the top collectors today.
She exclusively built the following world-class collections with collectors:
All the Law Collections-MS+PR 3CS #1, H.01 MS #1, MS +PR Barber Dimes formerly #1.
The Legend Collections 1794-1883 Dollars.
The entire Simpson Collection (which includes numerous finest #1 sets and major rarities)-soon to be the world's most valuable collection
The Shalor Collection of spectacular colored Commems—including all Pan Pac patterns and proofs!
The Legend set of PR 3CS #1 all time and it includes the 1851.
Was the sole dealer for the JFS Commems, Morgans, and MS Seated Dollars (all now sold).
Five world class major Type Sets (NONE are registered-but you'd know many of the famous coins).
The Coronet Collection of MS Morgans and the Sunset Hill Collection of Proof Morgans.
The Far East Eagle PR $10 Indian set.
A GEM 1793 1C set
The JEU PR 67 10C-50C Proof Barber Collection.
She has sold more million-dollar coins privately than anyone—and sold them to 10 different people. She has placed THREE 1927D $20, the last one a  PCGS MS66 for $2 million.
She graded and sold the Dakota Collection of Walkers and Morgans-over 10,000 GEM coins (average value $200). Today she is selling a staggering 1500+ MS Buffalo Nickels.
In 2014, she became an ANA Board member and created Legend Numismatic Rare Coin Auctions, which has been a success from day one.
Learn more about legend