Indulge Yourself the Pleasure
of owning one of the finest-known coins
Legend proudly presents an extraordinarily superb collection of Bust coinage worth over $10,000,000.00
For anyone dreaming of owning one of the finest-known bust coins in the world
the time is now
In continuation of Legend's long history of offering the worlds finest coins, we proudly present an extraordinarily superb collection of Bust coinage worth over $10,000,000.00. Each of these CAC stickered coins have been meticulously handpicked for rarity and quality. This exclusive offering presents an once in a lifetime opportunity for you to own the finest-known Half Cents and Large Cents, Bust dimes, as well as other extraordinarily spectacular specimens.
Success deserves to be rewarded. Indulge yourself the pleasure of owning one of the finest coins in the world.
Call us today to discuss details as well as financing options.
Half Cents and Large Cents
One of the first coins struck at the U.S. Mint, the 1793 Half Cents and Cents are the most sought after coins in numismatics. In this exclusive offering, Legend presents the rarest and finest-known, including:
---
---
---
Bust Dimes
Over the years, a top coin enthusiast, with great enjoyment and satisfaction, challenged himself to build a set of finest-known dimes. After assembling the collection as far he could, he is now ready to embark on a new challenge. For him, allowing these beloved coins to become a source of joy in a fine home like yours offsets the sorrow to let them go.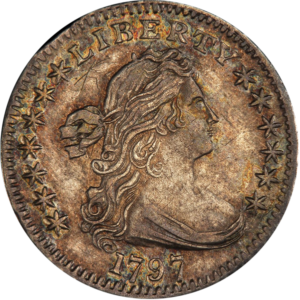 H.10 1797 13 STARS PCGS AU58 CAC EX SIMPSON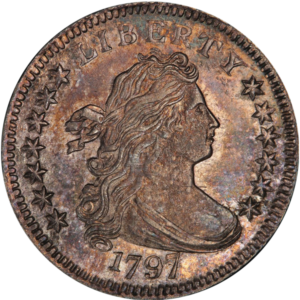 10C 1797 13 STARS PCGS MS64 CAC EX POGUE-LOVEJOY-PRICE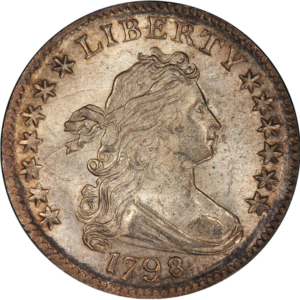 10C 1798 PCGS MS65 SMALL 8 EX ELIASBERG
---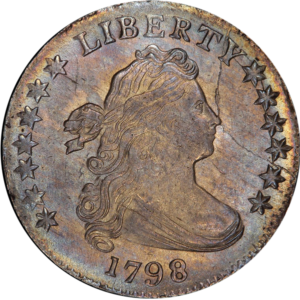 10C 1798 PCGS MS64 CAC LARGE 8 EX POGUE/PRICE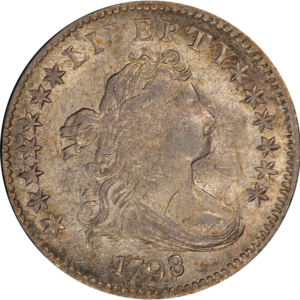 10C 1798/7 13 STARS REV PCGS MS63 CAC EX POGUE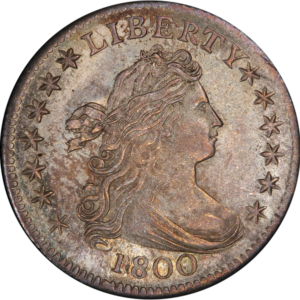 10C 1800 PCGS MS65 CAC EX NORWEB/POGUE
---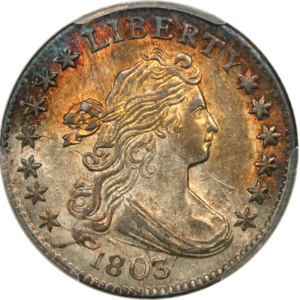 10C 1803 PCGS MS64 CAC LOVEJOY-BAREFORD-POGUE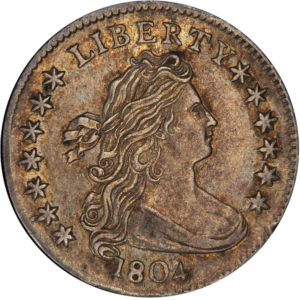 10C 1804 13 STARS REV PCGS AU55 CAC EX PITTMAN-POGUE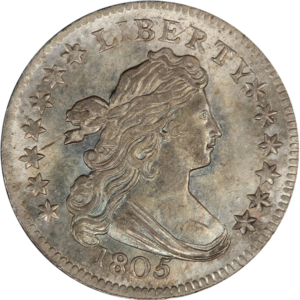 10C 1805 PCGS MS66+ CAC 4 BERRIES
---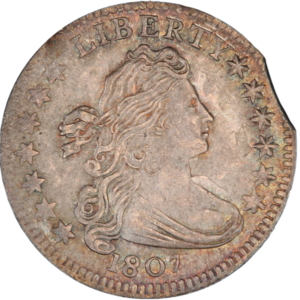 10C 1807 PCGS MS66 MINT ERROR-CLIPPED
---
---
Extraordinarily Spectacular Specimens
We also present you with other elite coins, for example, the 1795 Ten 13 Leaves PCGS MS65 CAC Far East Eagle, one of only three spectacular specimens in existence. Imagine the wellspring of pride and enjoyment that one of these coins will add to your life.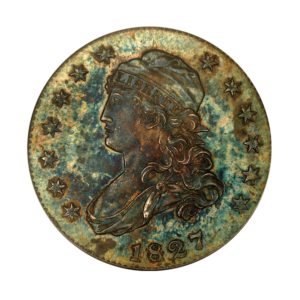 25C 1827/3 PCGS PR65 CAC
---
---